Smithtown, New York
The Legend of the Bull
The tale of Smithtown's borders may be apocryphal, but it makes for a good story
By Molly McCarthy
Staff Writer, Newsday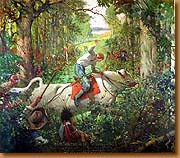 In this 1939 mural, Richard Smith rides his bull to set borders for Smithtown.
Sure, Paul Bunyan was a big guy. And Johnny Appleseed had a green thumb. But they've got nothing on Richard (Bull) Smith, the legendary founder of Smithtown.
After years of embellishing, Smith's tale has fermented into the tallest of them all. ``I think it's a perfectly wonderful legend. I don't think there's another town in the United States that could match it, and we should keep it,'' said Louise Hall, the director of the Smithtown Historical Society. Here's how the legend shapes up today, more than 300 years later.
As the story goes, the Indians made a pact with Smith, an English settler who knew a good real-estate deal when he saw one: He could keep whatever land he circled in a day's time riding atop his trusty bull named ``Whisper.''
A clever man, Smith waited for the longest day of the year, circa 1665, to undertake the trek. He even trotted out one of Whisper's favorite cows the night before to trace the route. Her fetching scent would surely quicken Whisper's pace and get Smith to the end of the 55-mile border in time. He would start at the east end of what is now Smithtown, go south to Raconcamuck, now known as Ronkonkoma, then west to Hauppauge and north along what is today Veterans Highway and on to Town Line Road, which marks the town's western border, and finally north to the edge of Long Island Sound.
At noon, he -- and the bull -- rested. Smith munched on bread and cheese in a hollow, inspiring the name Bread and Cheese Hollow Road. Naturally, Smith got 'round, and Smithtown was his.
That's the legend. Now here's what historians say really happened. Before Smith ever thought of founding a town in his name, he came to Southampton.
Actually, Smith first got off the boat, the John of London, from England at the Massachusetts Bay Colony in 1635. Because land there was already scarce and the Puritans extremely severe, he soon made his way to Long Island.
The first mention of Smith, then spelled Smythe, in the Southampton town records was in 1643. Soon after his arrival, Smith befriended Lion Gardiner, the first lord of the manor of Gardiners Island, and quickly rose into the fledgling settlement's highest social circles.
Along the way, Smith must have tweaked a nose or two. In 1656, he was banished from Southampton for insulting the wrong people. The order is reprinted in Noel Gish's book, ``Smithtown, New York: 1660-1929.'' It reads:
It is ordered by the general court that Richard Smythe for his Irreverent carriage towards the magistrates contrary to the order was adjudged to be banished out of the towne and he is to have a weeks liberty to prepare himself to depart, and if at any time he be found after this limited week within the towne or the bounds thereof he shall forfeit twenty shillings.
Smithtown didn't come into play yet. Smith's next stop was Setauket, where in 1657 he set up house with his wife, Sarah, and their nine children.
Other forces were at work. The great Indian sachem Wyandanch gave Lion Gardiner a gift of land for rescuing his daughter, the Heather Flower, from a hostile tribe. Gardiner signed over the land that would become Smithtown to Smith in 1663. Smith either bought it or won it in a card game, depending on who's telling the story.
But the true tale doesn't end there. It took Smith a dozen more years of court battles to ensure that Smithtown was really his. When the English court didn't give him what he wanted, he tried the Dutch. And when the Dutch lost New York, he went back to the English. It went on and on. Finally, the last bits of Smithtown were declared his in the Andros Patent of 1677. Sounds like Smith was more of a bull than Whisper was.
``If you think about the fact that he got to two colonial governors with his boundary dispute, I think he was a very educated and determined man. He was absolutely determined to secure this land,'' said Hall. ``I wouldn't call him pushy, that's too modern a word.''
Though it's likely Smith's demeanor may have had something to do with inspiring the ``Bull'' myth, historians have come up with several theories. One is that Smith had a pet bull he liked to walk around town. Others point to Smith's coat of arms: A bull rising out of a shield decorated with six fleur-de-lis symbols.
Then there's Gish's theory, an interesting take on papal bulls. Apparently, papal bulls, decrees issued to settle matters of church and state, were very popular during the 17th Century. Papal bulls were sometimes used to resolve boundary disputes between dioceses or parishes. Gish argues that Smith could have issued his own ``Smith Bull'' to solve, once and for all, his boundary disputes with the Dutch, the English and the neighboring town of Huntington.
Of course, many people, especially Smithtown residents, dismiss these theories in favor of the fanciful fiction. It may be full of bull, but it's Smithtown's bull.
``When I first heard it, I thought it was somewhat farfetched, but it was a lovely story,'' said Smithtown Supervisor Pat Vecchio. ``As the years go by, it seems less far-fetched to me. You hear it so often, you begin to believe it.''
Asked almost weekly about the legend, Hall has developed her own strategy for handling the ultimate question of authenticity. ``I show them the map done for the town's bicentennial. We talk about whether there were Indian trails along the route and how the bull could have covered that much territory if it was covered in underbrush. Then I let them decide.''
Courtesy //newsday.com/community/guide/lihistory
---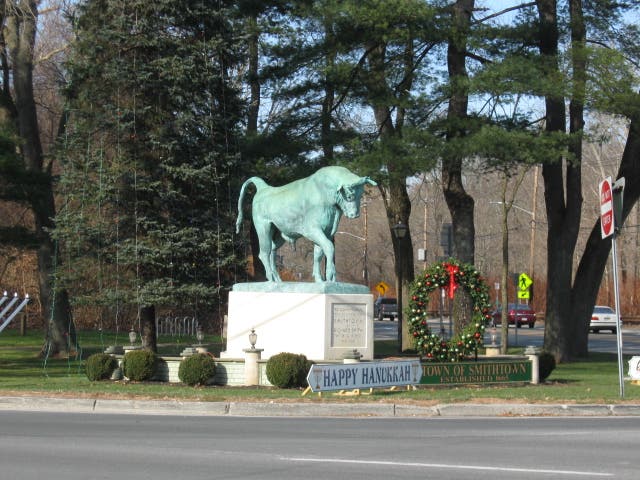 "Whisper's Statue" a.k.a. "The Bull" at NY Routes 25 & 25A (western edge of Smithtown Village, New York)
The Statue of Whisper the Bull
Courtesy //www.smithtowninfo.com
---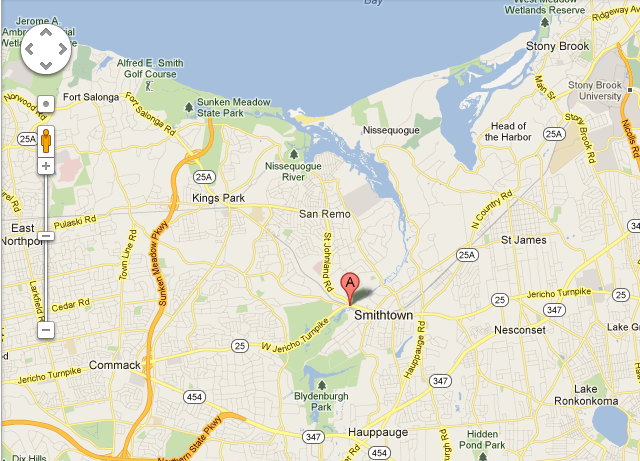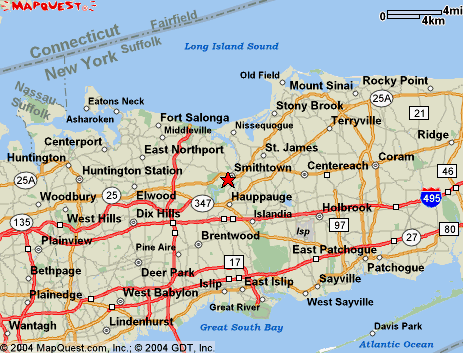 The above map gives you the sense of the area covered by Richard "Bull" Smith in 1665, according to the legend. The location of "Whisper's Statue" is marked by the red star for map on the right, and A for the map on the left. In addition to the account above, Richard Smith started at the old Grist Mill in what is now Stony Brook. The legend states that he began his journey at sunrise on the longest day of the year (in this area the sun comes up around 4:30 AM on June 21st and there is just over 15 hours of daylight). Lastly, Bread and Cheese Hollow Road is located on the western edge of Smithtown; that is, Town Line Road, between Huntington and Smithtown, becomes Bread and Cheese Hollow Road. It is at this location around noon-time that he stopped for lunch of bread and cheese. So, could someone, in 1665, cover over 50 miles (80 km) riding on a back of a bull, using forest paths or cutting through forested areas, and get across the Nissequogue River Wetlands (Blydenburgh County Park on the map), in 7 1/2 hours (6.67 mi/hr, 10.67 km/hr) *? Ah, it is a nice legend, isn't it?
The map, on the left, depicts a little more than the territory covered. The current township boundary, from the west goes south from Fort Salonga (Bread and Cheese Hollow Road/Town Line Road/Commack Road) to just north of the Northern State Parkway. Then east, approximately following Long Island Motor Parkway, to Lake Ronkonkama and then due north to Stony Brook. Smithtown is bordered by Huntington Township to the west, Brookhaven Township to the east, Islip Township to the south and Long Island Sound to the north. It is 49 miles (78.4 km) east of New York City at "Whisper's Statue", as indicated on a highway sign, just west of the statue, on NY Route 25. FYI, NY Route 25 is known as West Jericho Turnpike west of Smithtown and Middle Country Road east of Smithtown.
According to the United States Census Bureau, the town has a total area of 32.0 sq km (12.4 sq mi). 30.7 sq km (11 sq mi) of it land and 1.3 sq km (.05 sq mi) of it is water. The total area is 3.96% water. The 2000 census showed a population of 26,901.
Courtesy //www.mapquest.com
* Smithtown is known to have major traffic issues, because of New York City commuters, the narrow roads, the merging of NY Routes 25 and 25A through Smithtown Village, NY Route 111 ending where NY Routes 25 and 25A split east of town, traffic congestion on the Long Island Expressway (I-495), the Northern State Parkway ending at NY Route 454, and more traffic congestion on NY Routes 454 and 347. Therefore, despite the traffic lights, low speed limits, etc., commuters will brave going through Smithtown Village. So, it is possible that it could take longer to traverse the 55 mile (88 km) border today, than it did in 1665. Any takers?
Please e-mail any comments, problems or suggestions to njmetrowsky@gmail.com

Webmaster: Nick Metrowsky
The Ohio State University, BA, History
Amberton University, MBA, Management
Life Member The Ohio State University Alumni Association
Life Member of The Ohio State University President's Club
Annual Member of The Ohio State University Varsity "O" Association

Last Updated: 16 August, 2021